vacatime
Regular price
$62.99
Sale price
$29.88
Unit price
per
Sale
Sold out
Shipping & Customs

All Orders will be processed within 1-3 business days and will require 7-10 days for shipping.

There are no additional duties or taxes associated with shipping-Even shipping is free
Return

If you or your pet are not 100% satisfied with any of our products, simply return or exchange the item within 30 days from your delivery date.
Features:
Safe for Human and Pet: Ultrasound Handheld Dog Repellent and Trainer Device uses physical methods to stimulate dogs. The human hearing range is 20HZ~20KHZ; the dog hearing range is 15HZ~120KHZ. Ultrasonic Bark Control emits ultrasonic sound around 35~45HKZ, so it is safe for humans and pets.
Dog Repellent and Trainer Convenient: The dog repellent and training device is about 14 x 6 x 3cm. It is handheld. Easy to carry wherever you go. Such as walking, jogging, picnic, cycling, and so on.
Safety Night with Dog Repellent and Trainer: The anti-dog barking device has a super bright LED flashlight that can protect against the vicious dog while you are outdoor at night. It also can be an ordinary flashlight at night.
✔ 100% SAFE TO YOU AND DOGS: Our anti-bark aid emits ultra-sonic sound at 25KHZ which is not harmful to pets and completely gentle and inaudible to human ears. Comparing to the dog shock collar, the ultrasonic bark stopper will grab the dogs' attention without hurting him and will eventually learn to associate the barking with the ultrasound, forming a conditioned reflex.
✔ MULTIFUNCTIONS: Can be used as a dog training tool, to stop barking and to correct efficiently bad and unwanted behavior like excessive barking, digging, eating unsafe food, fighting, leash pulling. Also, can be used as a dog repeller to discourage aggressive dogs from approaching you or your doggie and as a bright LED flashlight.
✔ MADE TRAINING EASIER: When you push the "ON" button of the ultrasonic bark controller, it will emit a high-frequency ultrasonic sound which can only be heard by the dog. The anti-barking device is not effective on dogs who are hearing impaired. We recommend using this product on dogs above 6 months and under 8 years.
✔ PORTABLE AND ERGONOMIC: Lightweight and easy to carry around anywhere you need to use it: home, in the park, in the car, or for neighbors' dog. Our anti-bark controller comes with an adjustable wrist strap and its ergonomic design making it fits nicely in your hand, also fits comfortably into your pocket.
Introduction:
The ultrasonic anti-barking device will help you to train dog and bark control. Train your dog in good behavior, stop clawing, digging, scratching, biting, and staying off the furniture.

The handheld dog repellent device uses two ultrasonic transmitters, which can repellent dogs away. It carries an ultrasonic which can reach up to 50 feet (15 M). It will protect you from the unfriendly dogs to send a message to the approaching dogs before they become aggressive while you are walking, running, bicycling, etc.
This product adopts double-channel enhanced, double dog training, excitation drive dogs, lighting function is one of the super ultrasonic.
Drive dog unit, the appearance design is exquisite, easy to carry, especially suitable for outdoor work, outdoor travel and security night patrol, and all kinds of dog training use.
Used to prevent dog attacks, issue ultrasound to repel the dog or wild wolf. In a normal situation, it can be used as a normal flashlight to illuminate at night.
Ultrasonic wave reaches up to 125db. Audible to dogs but not to humans.
Share
View full details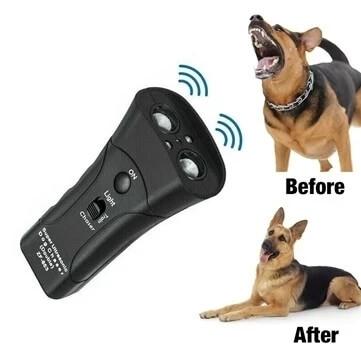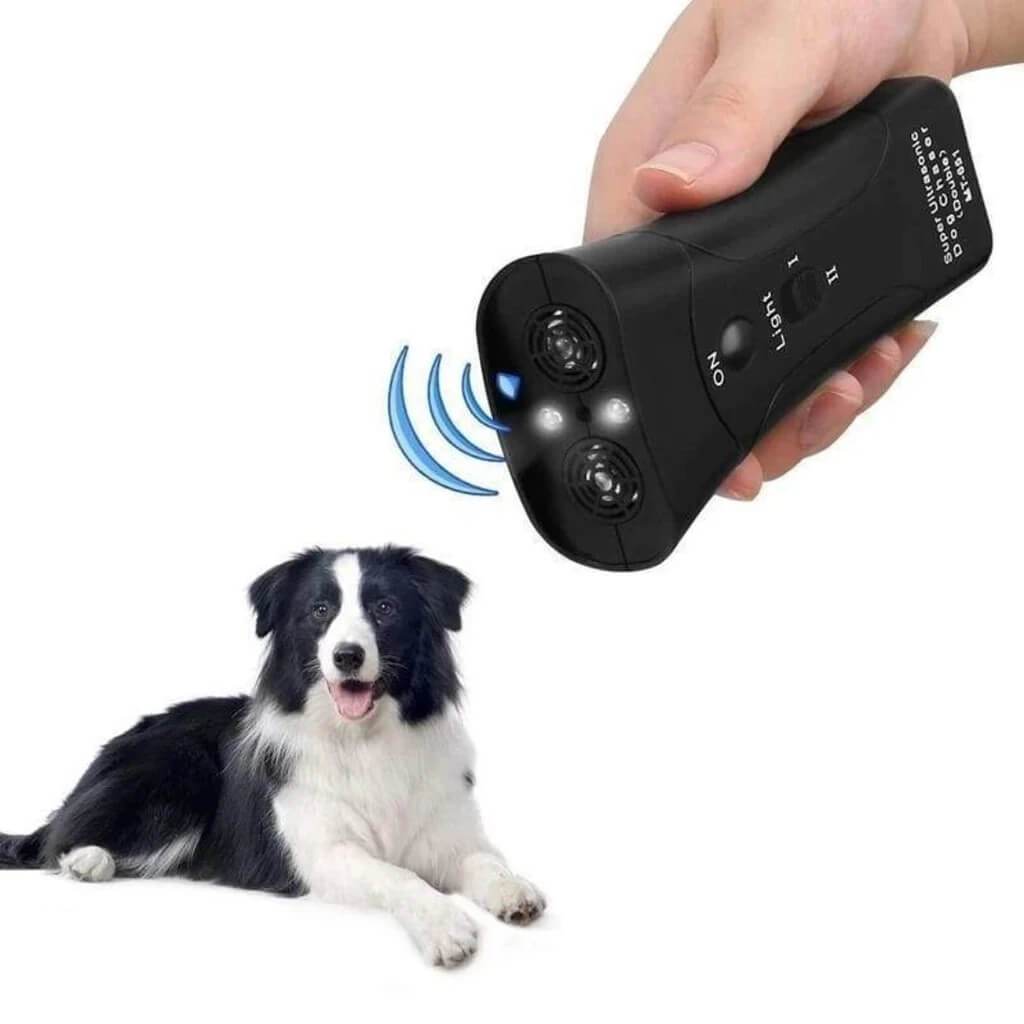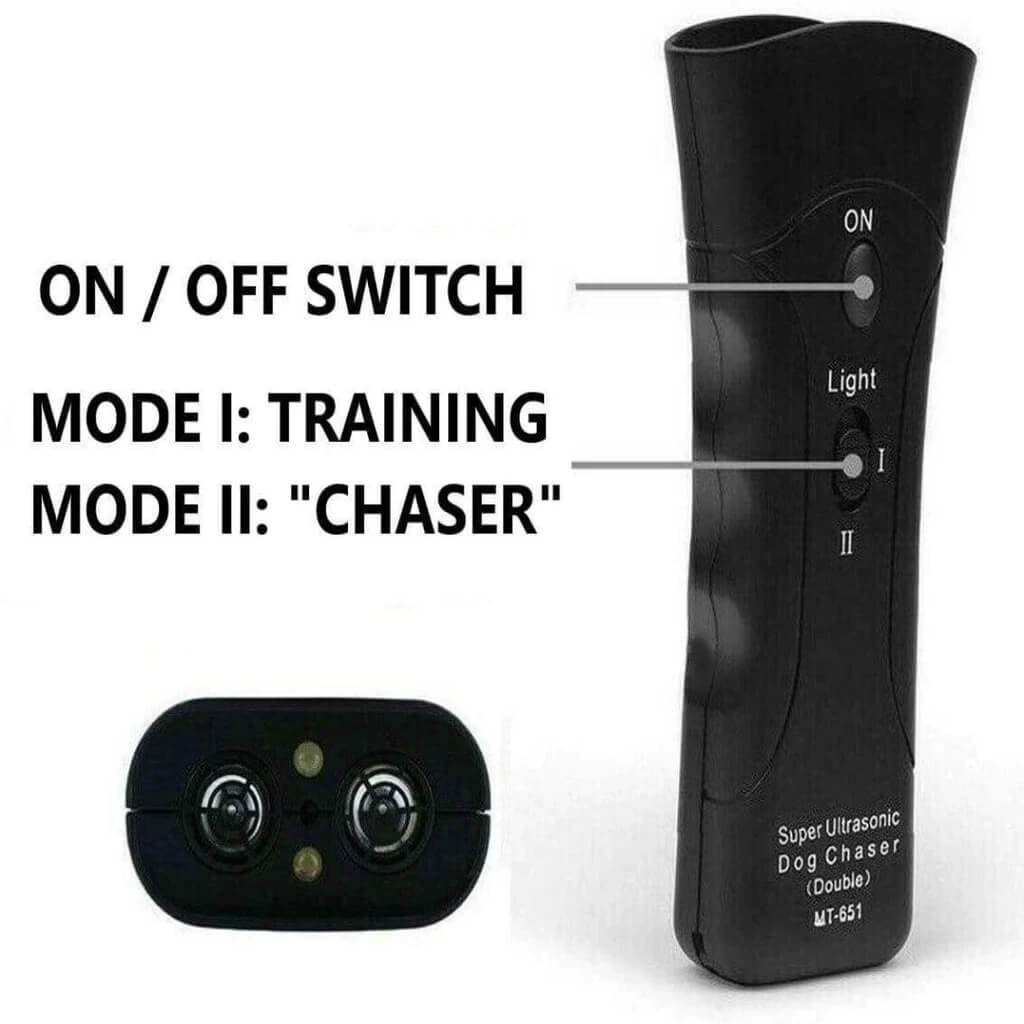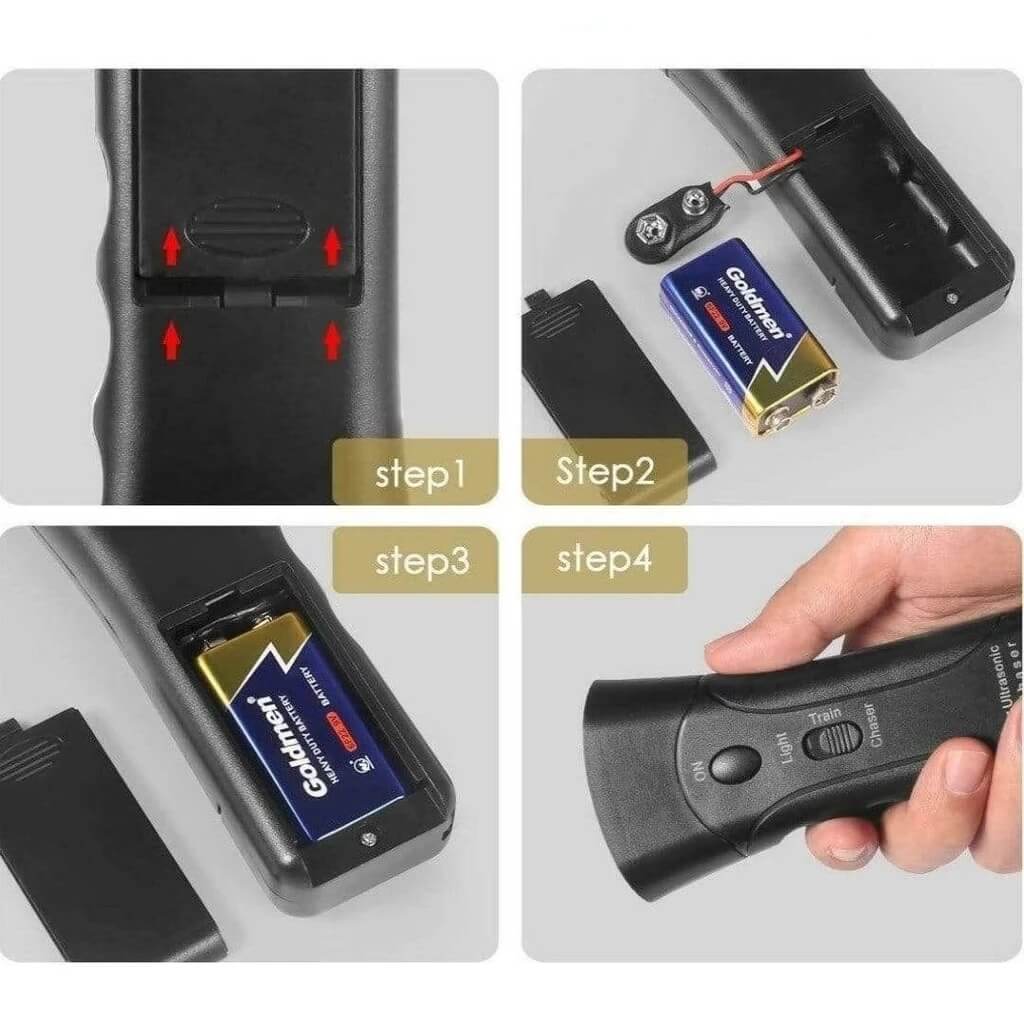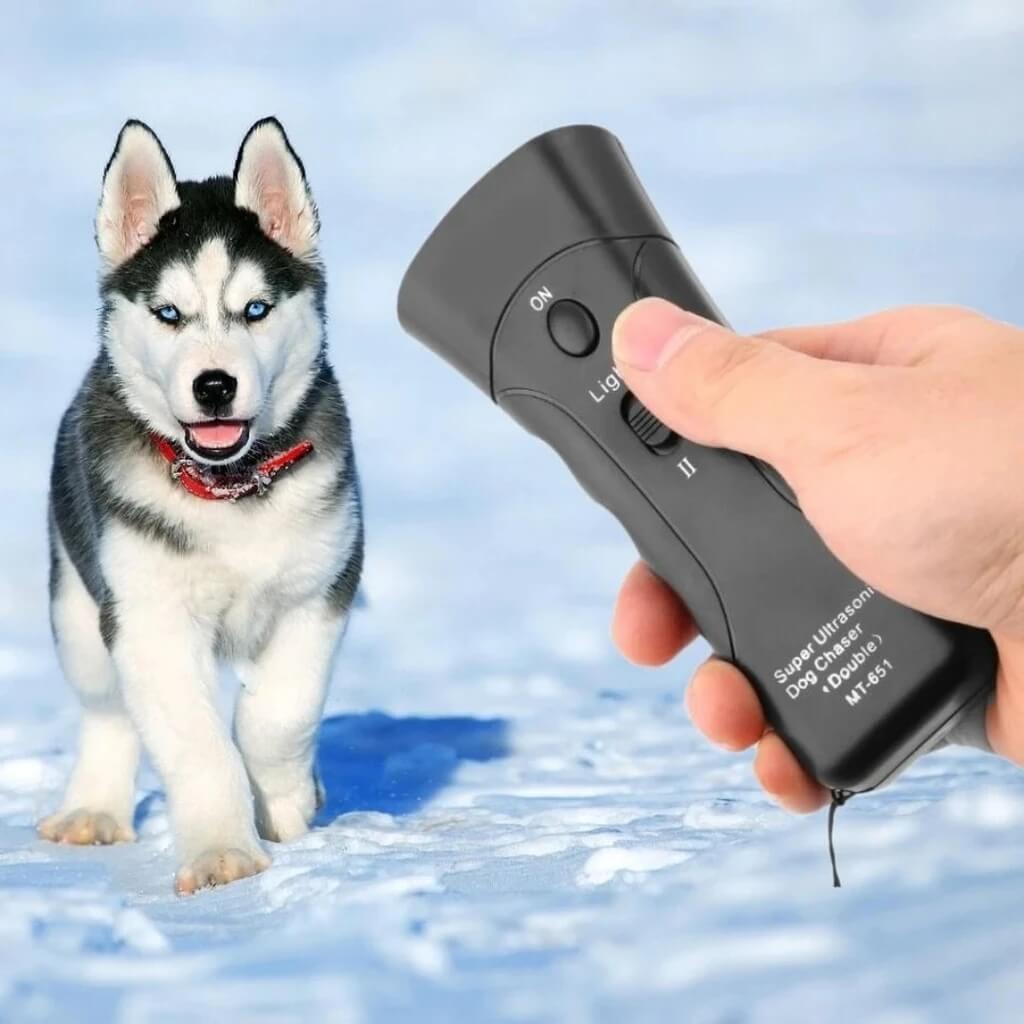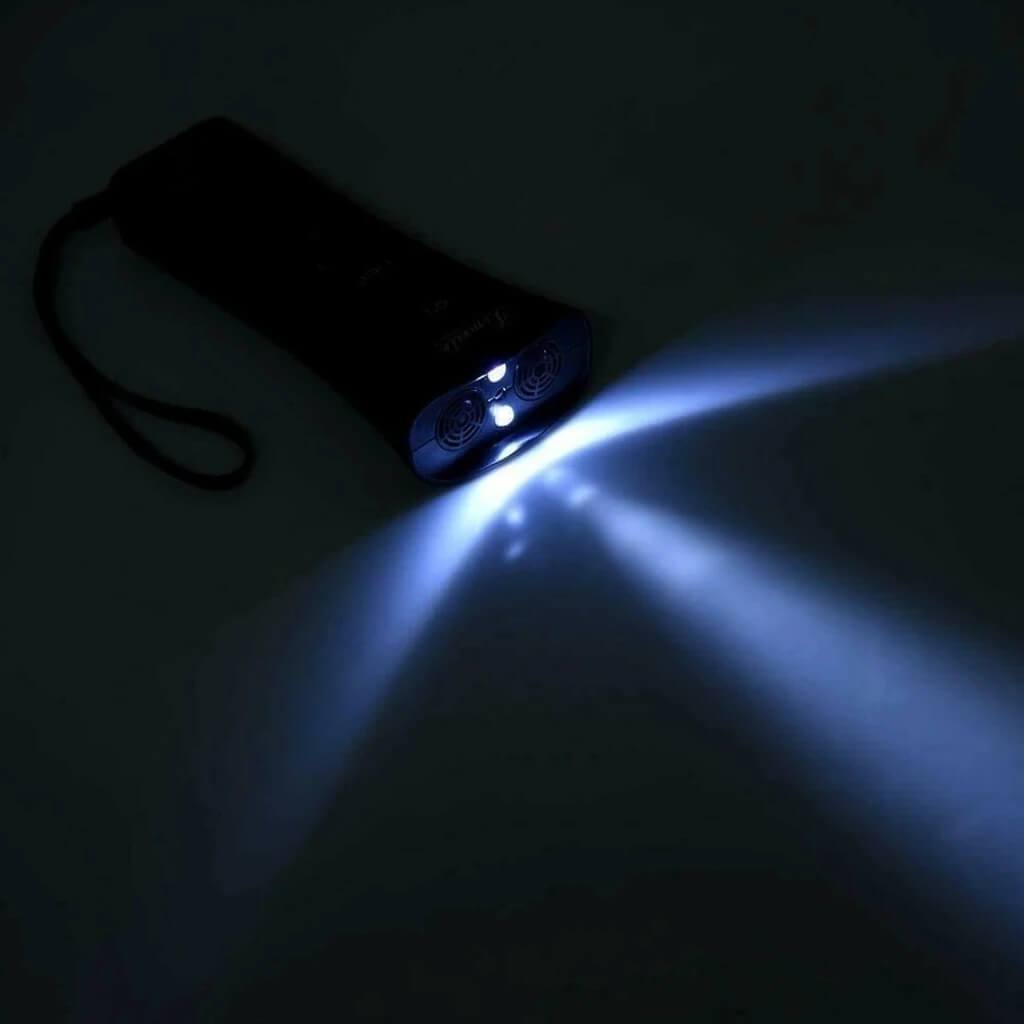 Helping train my dog
This product seems to be working well to help discourage barking in my small indoor dog. Many times all I have to do is pick it up and she knows to stop barking. I like the flashlight
Works well
This product is very easy to use. Just poi t at the dog, press the button, give the command and do t let go of the button until you get the desired result. Pretty straightforward.
Great Dog Bark Training Device
This really worked wonders for us. We only needed to use it a couple of times and saw a huge improvement with our dog. It was definitely worth it for us to buy.