vacatime
Regular price
$158.99
Sale price
$128.99
Unit price
per
Sale
Sold out
Features:
Educational Learning Toy: A space astronomical telescope with 300mm focal length and 70mm objective diameter, maximum 150x Magnification, provides a brighter and sharper image. A perfect telescope for kids and astronomy beginners to explore stars sky.
Premium Material & Portable Tripod: Made of premium ABS acrylic and aluminum alloy, lightweight and portable, insuring long serving time. Telescopes for astronomy beginners with a tripod make the observation more steady, also is convenient to use outdoors, set up, and takedown, really suited to those who want to observe outside.
Easy To Install & Use: Easy assembly with no tools required. Equipped with H20mm (view all the details of the craters on the moon), H6mm (view the terrestrial objects on land), and special (moon mirror) can effectively avoid the reflected light, and then the moon's surface will be seen more clearly.
Real-Time Share: This telescope allows you to capture the beauty of planetary images and share them with your family and friends in real-time. Star telescope is suitable for kids who love science to discover the mystery of the universe.(Please note that this function must match the phone adapter)
Perfect Gift for Astronomy Beginners:  Powerful telescope for the sky and land exploration, perfect gifts for your kids and astronomy beginners. Package Included - 1*telescope, 1*H20mm eyepiece, 1*H6mm eyepiece, 1*F12mm eyepiece,1*1.5X erecting eyepiece, 1*3X Barlow eyepiece,1*moon mirror, 1*dust cover, 1* Tripod.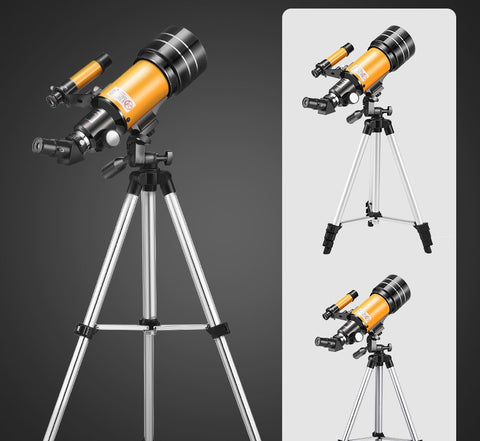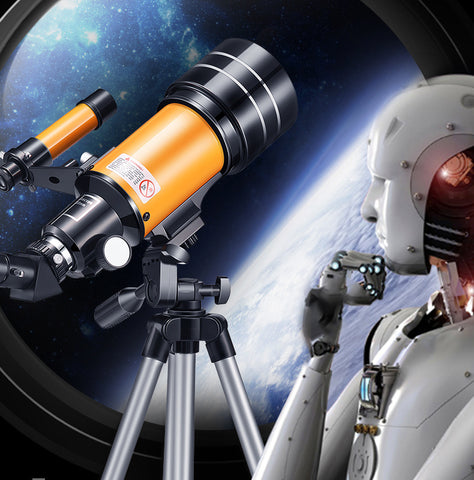 Features:
- Model: Astronomical telescope
- Material: ABS acrylic + aluminum alloy + optical glass
- Color: Yellow+Black+Silver
- Weight: 2kg Package Weight
- Aperture: 70mm (2.4 inch)
- Focal Length: 300mm
- Aluminum Tripod: The highest 120cm
- Eyepiece: H6mm, H20mm
- 3X the Barlow lens
- 1.5X erecting eyepiece
Note: This maximum magnification: 150X (lens focal length / eyepiece focal length x Barlow multiplier = maximum magnification)
About Multiples:
- Equipped with eyepiece: H6mm, H20mm, multiples are 300/6 = 50X, 300/20 = 15X, ( F12mm=30X)
- If choose 3X Barlow lens together, multiples are 50 x 3 = 150X, 15 x 3 = 45X, 30x 3 = 90X
- Plus 1.5X the positive lens again, multiples are 50 x 1.5 = 75X, 15 x 1.5 = 22.5X, 30X 1.5 =45X
The Formula:
- Objective lens focal length / eyepiece focal length x Barlow multiplier = maximum magnification
- Objective lens focal length / eyepiece focal length = magnification
Installation:
Install tripod first, and then attached eyepiece (H20mm or H6mm), moon mirror (can be installed or not, it is recommended to install when there is strong light)
Package includes:
1* Kids Telescope
1* H20mm Eyepiece
1* H6mm Eyepiece
1* F12mm Eyepiece
1* 1.5X Erecting eyepiece
1* 3X Barlow eyepiece
1* Moon mirror
1* Dust cover
1* Tripod
Share
View full details