vacatime
Regular price
$149.99
Sale price
$109.88
Unit price
per
Sale
Sold out
Features:
BEST Telescope for Kids & Beginners: Vacatime telescope meets all the needs of beginners, and the kids' astronomical journey begins from here! Equipped with 3X Barlow lens and two eyepieces, H20mm and H6mm, kids can get a magnification of 15X to 150X. Whether it's watching stars and moons at night or observing planets, the telescope is the best helper for kids & astronomy beginners.
Large Aperture: 70mm aperture and 300mm focal length provide more lights and clearer images, even beginners can get clear images. The bigger the aperture, the bigger the field of vision, and the clearer the image.
Compatible with Phone: Vacatime telescope set includes one smartphone adapter. You can explore the nature of the world easily through the screen and take amazing images.
Easy to assemble& dismount: We have a full set of paper and video Installation Guidelines. Don't worry about any installation problems. Even for first-time users, kids&beginners can install it themselves without any tools.
Satisfaction Warranty: 1-year guarantee was offered by Vacatime. Please feel free to contact us if you have any questions about our TELESCOPE and service.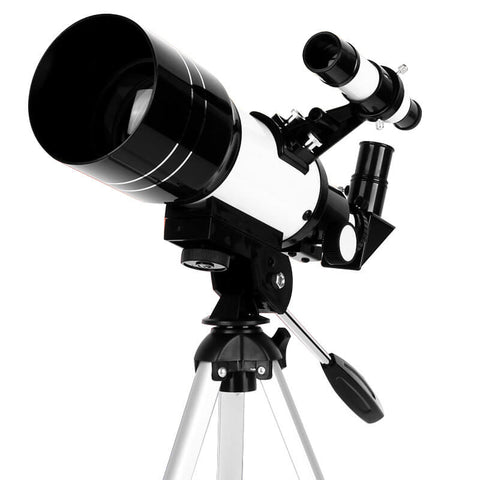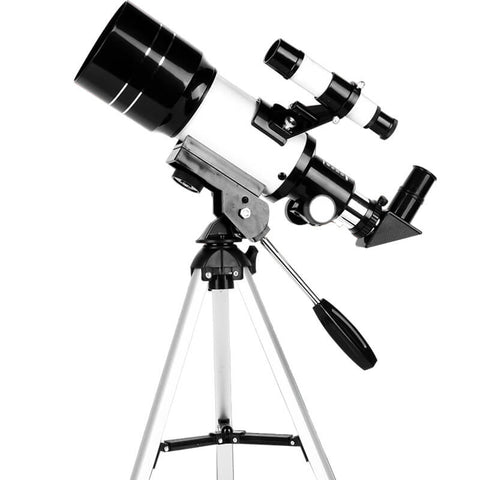 Specifications:
Type: Refractor

Objective Lens: 70mm

Focal Length: 300mm

Eyepiece: 20mm: 15X ; 6mm: 50X

Accessories: 1.5X Erecting eyepiece, 3X Barlow lens, Finder scope, Adjustable tripod. 

Phone adapter, 

Magnification power: 15X - 150X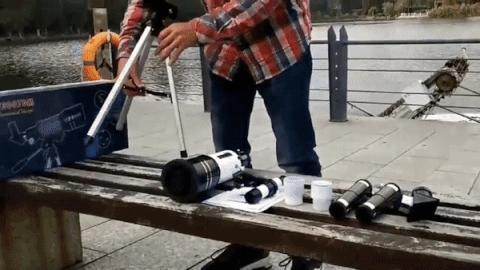 About Magnification
The focal length of the eyepiece, combined with the focal length of the telescope, determines the magnification power.
To calculate the power of your telescope with any particular eyepiece, simply divide the focal length of the telescope (300mm) by the focal length of the eyepiece (indicated in "mm" on the eyepiece collar).
For example, when you use the eyepiece H20mm with this telescope, the magnification will be 15X, and with a 3X Barlow lens, the magnification will be 45X.
Easy to install:
The installation of the telescope is very simple. As long as you follow the instructions, you can install all the accessories in ten minutes. No extra tools are needed. You can explore the universe at any time.
Let's start our space adventure!
How to use:
Open the tripod.

Place the telescope tube onto the tripod mount.

Insert the finder scope, eyepiece, and 1.5X Erecting Eyepiece

Adjust the focus knob to view the clear image.
Package includes:
1 * Telescope Tube
1* Finderscope
1* 1.5X Erecting eyepiece
1* 3X Barlow lens
1* Adjustable tripod. 
1* Phone adapter
1 * Moon Filter
2 * Eyepieces
1 * Diagonal Mirror
Share
View full details
Nice telescope for beginners
So far, this is an amazing product. Assembly and setup couldn't have been easier. The instructions are clear and concise.
Definitely recommend for youngsters or anyone starting out.
Would buy again.
Great beginner telescope
I bought this telescope for my grandkids, who are 9 and 7, for Christmas. I wanted a solid telescope (a real one as opposed to a toy) that would provide excellent views of major features of the night sky to inspire them. Out of all the options, I chose this telescope. It's perfect due to its non-overwhelming array of features, which are just right for viewing the major attractions. It will be easy for them to set up with a little help from their dad, and I know my granddaughter will love hooking up her smartphone to it to capture images. I'm very excited to give them this gift and know they will love it.
Great telescope! Easy to use and assemble
I originally purchased this telescope for my first grade daughter's science project. She was tasked to observed the moon through the waxing phases in early October. We got the telescope a few days after purchase and set it up in less that 15 minutes. My daughter and I loved looking at the moon together and this definitely created an amazing memory for us both.
Also, the iphone holder attachment is amazing. Just make sure to tighten everything that you need to. Helps keep things steady.