Ultrasonic Skin Scrubber, Blackhead Remover for Deep Cleansing
Regular price

Sale price

$42.99 USD

Unit price

per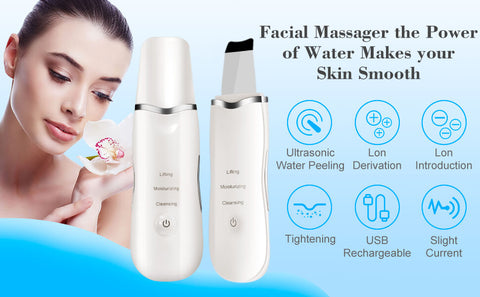 Water peeling: The beauty ingredients and the active ingredients of the sheet mask penetrate deep into the skin, further increasing the moisturization of the skin. You can also improve slackness, swelling, and swelling on the skin surface. Firmly tighten your skin. You can enjoy various skincare courses at the beauty salon level at home.

Cleansing mode: 20000 times/second vibration and water force instantly make water mist-like, and fine mist particles get into pores to remove dirt and blow away excess keratin. It is a beauty method.

Moisturizing mode: Negative ion power and vibration penetrate the active ingredients of the beautiful essence and sheet mask deep into the skin. It accelerates penetration and absorption of beauty essence, leading to moisturizing and firm skin.

Lifting mode: Utilizing intermittent vibration, it works by stimulating the muscles of the face with continuous stimulation, further improving cell repair and activation. It is possible to improve the sagging, wrinkles, streak lines, swelling, etc. on the skin surface and lift the entire face to tighten and tighten the face.

Guarantee:This facial device is compact and lightweight, so it is convenient to carry around when traveling. Enjoy skincare anytime, anywhere. *Besides excluding the head part, the main body cannot be completely waterproof, so please avoid placing it in a humid place such as a bathroom. When cleaning the head, avoid flooding or keeping the body running. If you have any questions, please feel free to contact us.
Features:
Functions: remove blackheads, clean skin, reduce wrinkles, whiten skin, essence introduction
Battery capacity: 600 mah
Battery: rechargeable lithium polymer battery
Mode adjustment: three modes can be adjusted
Voltage: 3.7 V
Output power: 2W
Charging mode: USB charging (including charging cable)
Output voltage: 5V/600mA

Packing list:
1Pcs* Skin Scrubber
1Pcs* USB Charging Cable
1Pcs* English Instructions
1Pcs* Gift Box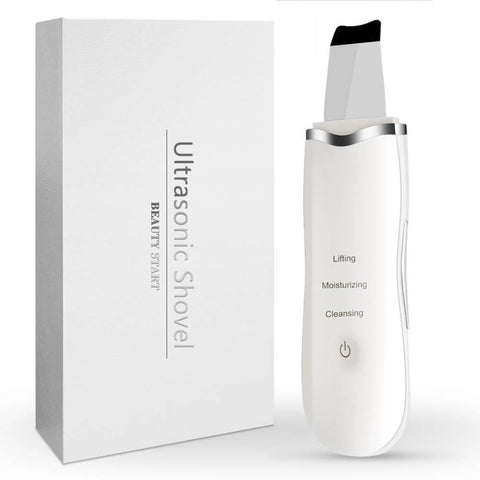 How to use
1)Before using : Wash your face/neck with warm water and keep your skin wet.
2) Touch ON/Off button for power on/ off.
3)Shortly touch for mode switch.

Attention:
1)Clean your skin with mildly wash or water (keep skin wet) before using.
2)Keep the device clean and disinfect.


Share