vacatime
Regular price
$32.99
Sale price
$24.99
Unit price
per
Sale
Sold out
❤ 2023 NEW UPGRADED MATERIALS ❤ dog toothbrush stick toys is made of natural rubber which is non-toxic and Eco-friendly,we have upgraded the material so that the dog toothbrush is more robust and can withstand the chewing of the dog, longer service life, texture It is softer and protects the health and safety of the dog's gums.

❤ SIZE ❤ We design different sizes and types for different dogs. For specific sizes, you can see the detailed picture. A suitable new toothbrush can make dogs fall in love with their own brushing. It can also help them clean their teeth and protect their oral diseases.

❤ DESIGN ❤ The tooth cleaning bristles have raised ridges and are relatively soft.They can massage the gums and teeth to protect the dog's teeth, protect them from oral diseases,and maintain fresh breath. Dog toothbrushes can be used with any dog toothpaste to provide thorough cleaning to remove tartar and plaque.

❤ TOOTHBRUSH USAGE ❤ The dog's toothbrush has bristles on all four sides. You can squeeze the toothpaste into the top hole or toothbrush slot to help the pet deep clean the teeth and let the dog chew the toothbrush toy for 3-5 minutes under your supervision. You can also spread peanut butter or add snacks such as dog food tuna to become chew toys that dogs.

❤ AFTER SERVICE GUARANTEE ❤ Unhappy with your purchase? Is something broken? —Please do not hesitated to contact us by Email,so we can provide you with a replacement or a refund.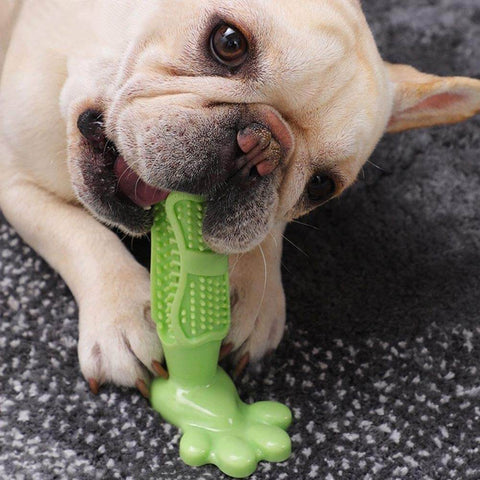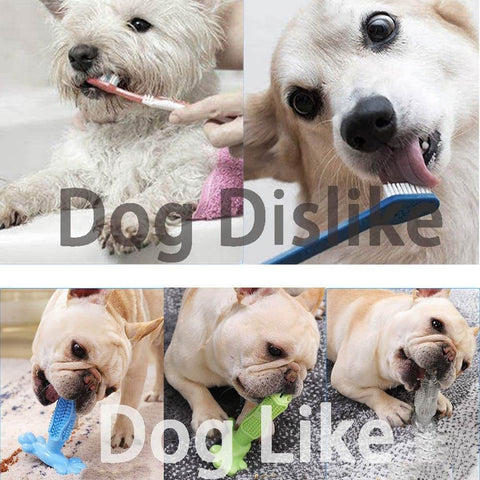 Descriptions:

Material:Natural Rubber
Color:Green/blue/Pink
Size: M:5"L x 1.6"W x4.9"H inches, L:6.1"L x 2"W x6.1"H

Features:

This dog toothbrush can effectively clean dog's teeth, reduce the possibility of the abrasion of their teeth and keep their dental health.
Erichome dog toothbrush can works as a chew toy, dog can chew it for fun and at the same time, the stick will clean their teeth. Your pet will not refuse tooth brush anymore.
Designs:

- Using environmentally friendly food grade bite-resistant material, it won't be easily bitten by dogs, and the service life will be longer.
- 3D groove design and two floss grooves and high-density bumps,can surround the dog's mouth, clean the stubborn bacteria on the dog's teeth, stains, let the dog brush their teeth, saving your time to brushing your dog.
- With toothpaste trough design,you can put pet toothpaste in the small hole at the top, let your dog chew 3 to 5 minutes.automatically dispense toothpaste and clean the dog's teeth to keep fresh. - The soft and easy-to-clean material can be cleaned in water or under the dishwasher.

How to use?

1. Squeeze pet toothpaste into the hole on the top
2. Let your puppy dogs to chew or play with the toothbrush under your supervision,3 to 5 minutes each time
3. The rubber material is easy to clean,you can use the small clean brush to clean it after use

Note:

1. Chew toy has a certain life span. During the process of brushing your teeth, we suggest you can supervise the use and control the time.
2. If he/she refuses to chew, maybe you can stuff a food around or inside the toothbrush to encourage your dog to chew.
3. We suggest that you clean the dog toothbrush before and after dog chewing, keeping the surface dry and convenient for next use.

Package includes:

1 x Toothbrush sticks
Share
View full details